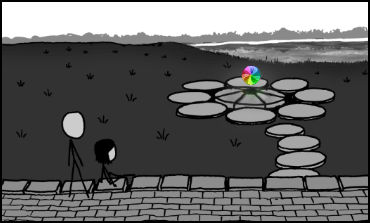 I have nothing personal to add to all the remembrances of Steve Jobs, so I'm collecting links to others' thoughts and reflections for future reference. I will update and appended this post as new stories emerge.
Notable videos, some of which are referenced in one or more of the items below, are:
Steve's Stanford University commencement address
,
Steve's iPhone announcement
,
a version of the "Crazy Ones" TV spot that never aired, narrated by Steve
, and (one of my personal favorites) Steve's
presentation to the Cupertino City Council
concerning the proposed new Apple headquarters. The authoritative video collection can be found at
Devour
.
MacRumors.com had the first of the best story and quote collections
, from which I get several of the links below.
Wired.com
came in a little later, but their tribute is more artfully presented.
As with just about everything he does,
Randall Munroe
(whose artwork sits atop this post) is sublime.
Be sure to visit the picture at Randall's site, though, because the hover-over text is the most pitch-perfect, succinct tribute you will see
.
Also visually brilliant is
Jonathan Mak
(at right).
The Jobs family's statement
NYTimes' Steve Jobs Obituary
Time Magazine's Steve Jobs Obituary
Time also stopped the presses (
literally
) on this week's issue in order to transform it into a Steve Jobs Tribute, complete with a
preview of Walter Isaacson's upcoming biography
.
WSJ.com's Steve Jobs Obituary
, and their
collection of his best quotes
The Onion
- predictably poignant, hilarious, and profane
Tim Cook
Bill Gates
Barack Obama
Warren Buffett
Mark Zuckerberg
Sean Parker
Disney President Bob Iger
California Governor Edmund Brown
Michael Dell
Walt Mossberg
John Gruber's initial post
, and then
his expanded personal reflections
.

Jason Kottke
(Who had the balls to just come out and
write
what I'm sure many people
said
upon hearing the news.)
Neven Mrgan
Marco Arment